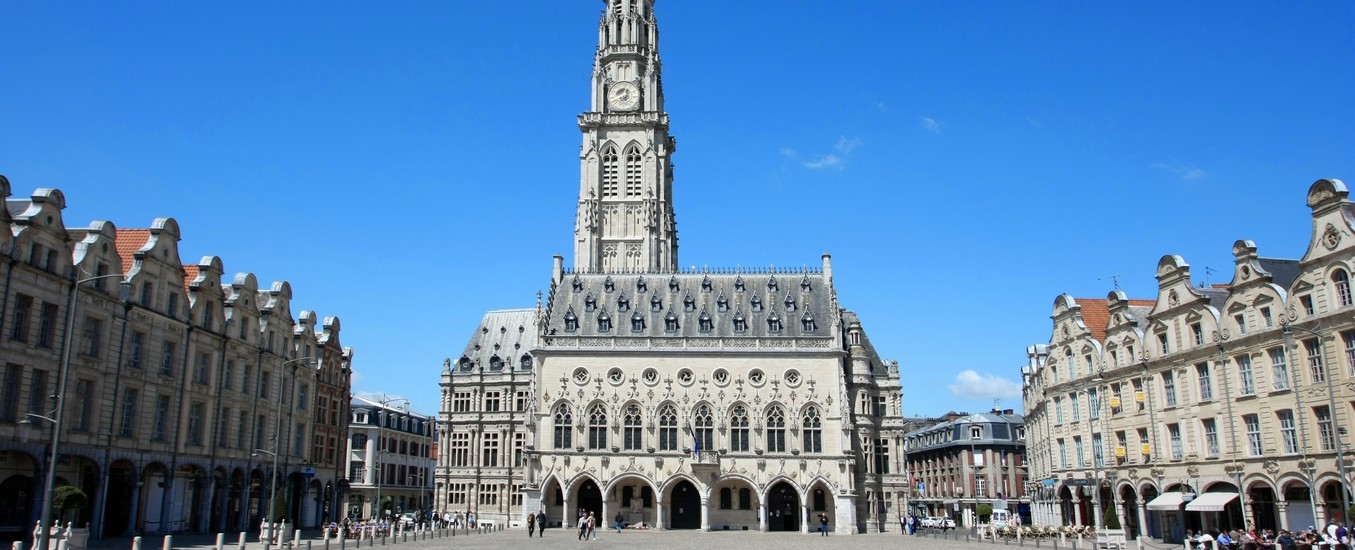 Greater Arras 2030: the PLUi was approved at the end of 2019
Adopted one year earlier, the inter-communal Local Urban Plan (PLUi) of Arras was approved in 2019. It covers 39 municipalities and provides for the creation of 750 housing units per year until 2030 to accommodate 1,000 new inhabitants per year.
More than half of the plots of land in the municipality of Arras are located in the town centre, covered by the UA zone of the Local Urban Plan. They mainly authorise the creation of housing by reusing existing buildings. The buildings in this zone are the oldest in the town.
40% of the plots are in the UC zone, which includes urban areas close to the city centre where more housing can be built on the existing, newer stock.
The mayor of Arras, Mr Frédéric LETURQUE, is surrounded by Mr Claude FÉRET, deputy town planning officer
Thehistorical and administrative capital of the Pas-de-Calais department, the city centre of Arras is famous for its buildings which mix different architectural styles. The influence of Flemish architecture, with its gabled facades and the art of assembling brick and stone, can be felt.
Today, Arras is a city with a young population: 34% of the inhabitants are under 25 years old. The town is famous for the Main Square Festival, a major music event in France held every year in July.
The municipality of Arras authorised 12 building permits in 2018, the last year of the Pinel scheme, mainly located in the town centre. They almost exclusively concern collective housing, with 378 new collective dwellings.
READ ON THE BLOG
Land developmentopportunities in Arras are to be watched.
Are you a real estate professional?
Test Kel Foncier free of charge on kelfoncier.com/test-gratuit to identify land project opportunities revealed by the Arras Local Urban Plan.
Real estate professionals, contact pro@kelfoncier.com or directly at 01 84 60 28 84 to obtain test access to Kel Foncier.
The Kel Foncier team wishes you an excellent land development!